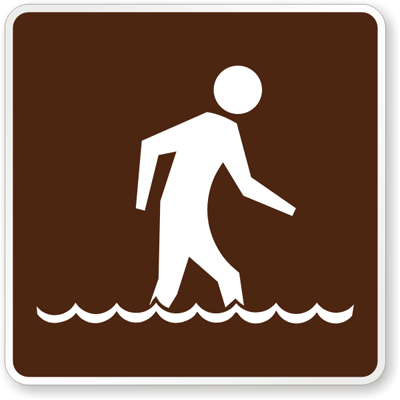 image courtesy of campgroundsigns.com – click image for link
WEIMAR, Calif. — A ground-breaking technological development is taking Adventist communities around the world by storm. Adventist entrepreneurs introduced the iWade device to rave reviews in Adventist media ranging from Adventist World through 3ABN.
"What the device does is simple," said Randy Sanderberg, the group's spokesperson. "It uses laser beam technology to tell you whether a body of water is of Sabbath-appropriate wading depth.  You will never accidentally swim on Sabbath again!"
The group's Chief Technology Officer, Sheryl Miranda added, "You don't even have to get in the water.  Just point your iWade at the stream or pond in question and you'll get a green light if the water is shallow enough to wade in.  If it is too deep you get a red light and, as an added bonus, a tiny, harmless, electric shock."
In addition, each iWade contains a handy yet discrete strap that can be fastened firmly right below the knee.  "If water so much as laps at the strap, a police siren-style alarm will sound," said Sanderberg.
"It's absolutely amazing!" said Sandy Jones, one of the beta testers of the device.  "It's the biggest Adventist innovation since cornflakes! My family has not had one water-level related Sabbath fight since we started using iWade.  As soon as it is officially released, I'm buying one for each of my relatives.  It has changed our lives!"
The iWade has impressive battery power and can reportedly hold a charge for 13 Sabbaths straight.  It will be priced at an affordable $39.99.  The iWade will be available at all good ABC stores and a launch date is expected soon.
A second generation iWade is already in development which is rumored to be Facebook compatible.  Analysts predict that it will include inbuilt functionality to allow your friends to discover all the wonderful wading spots you frequent.  In addition, Sabbath swimmers can be photographed and tagged using the iWade 2's mobile app so that Facebook friends can be duly warned of their cavalier frolicking.

Quick Reminder for the Comment Section: Every post on BarelyAdventist is satirical. As in, the news story you just read was not literally real. The "satrically Adventist" tag and the "About" section make that abundantly clear. This blog is written by committed Adventists that believe that humor is a great way to discuss Adventist culture and issues. This it not a place for hotheads. Rude, judgmental comments or other attacks will be deleted. On the other hand, if you feel you can contribute to the discussion in a constructive and friendly "inside voice", then have at it!
(Visited 1,696 times, 1 visits today)